TRI-VALLEY BALL CARDS AND
SPORTS MEMORABILIA
Serving the Sports Collector for 20 years!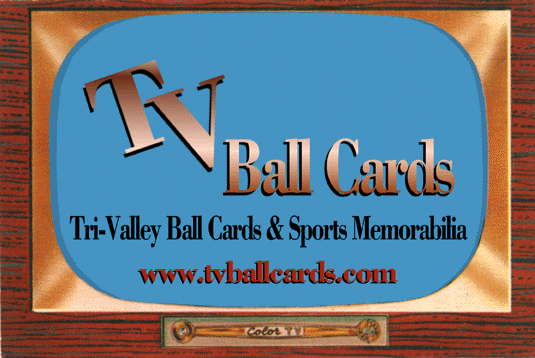 There are hundreds of on-line dealers who have the latest insert cards or who can sell you PSA's for double book! Sorry - not at TV Ball Cards!! We still remember the time when cards were flipped with our buddies and put on the spokes of our bicycles. Those times may never return, but will live on in our memories - maybe we can help you to remember why we started collecting in the first place!!
We offer a wide range of affordable cards of your favorite players and teams......and that's not all! Check our Memorabilia section for some unique items. If there is anything you're looking for, but don't see it here, send us an e-mail and well search our extensive inventory. If it's not currently available, well let you know if we can find it for you. Don't forget to also take a look at our wantlist filling service below.
Remember that our inventory is constantly changing - so please BOOKMARK this site and return to it often!!!
Just click on your areas of interest below:
---
Wantlists Filled
If by some small chance you don't see what your looking for in CLASSIC CARDS AND MEMORABILIA, we have a system in place that works to help you fill those holes in your list. For complete details, just click below for an automatic e-mail response.
Wantlist E-mail
---
---
TRI-VALLEY BALL CARDS AND SPORTS MEMORABILIA
E-mail: tvballcards@gmail.com
"At the present time, we are not set up to accept credit card payments. We do however ACCEPT Paypal!