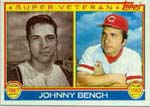 TRI-VALLEY BALL CARDS AND SPORTS MEMORABILIA

Serving the Sports Collector for 20 years! If there is anything you're looking for, but don't see it here, send us an e-mail and we'll search our extensive inventory. If it's not currently available, we'll let you know if we can find it for you. Don't forget to also take a look at our wantlist filling service on the TVBC Home Page.
Click Here for details on how to win a Larry Bird/Magic Johnson
Rookie Card!!
Remember that our inventory is constantly changing - so please BOOKMARK this site and return to it often!!!
Baseball Stars Blowout: 1981 & Up
The following products are available on this page:
---
Assorted Mark McGwire Cards
He's already joined the exclusive 500 home run club. By the time he is done, can 600 (or more) be possible? Mark McGwire holds numerous records and, after the season he's had recently, is a LOCK for Hall of Fame induction on the first ballot!!! This is a perfect opportunity to add to your Big Mac collection at an unbeatable price. A limited supply of 25 assorted* card lots are available for $25.00. That's only $1.00 per card!!! Cards were issued by licensed manufactures and may be from 1988 through present. Card selection is at the discretion of TVBC.

*"Assorted" means that there may be some duplication.


25 Assorted Mark McGwire Cards

$25.00
---
At the present time, we are not set up to accept credit card payments. To place an order for any cards or memorabilia on this website, please click here and send an e-mail request for the cards you want to order. Upon order confirmation, please send a check or money order to TVBC, P.O. Box 10603, Pleasanton, CA 94588.
We also carry "TON's" of your favorite current stars and stars from the recent past for as little as 25 cents each! Bowman, Donruss, Fleer, Pinnacle, Score, Stadium Club, Topps, Ultra, Upper Deck and MORE!!! Multiples of these players are available:
Roberto Alomar, Jeff Bagwell, Albert Belle, Johnny Bench, Dante Bichette, Wade Boggs, George Brett, Jose Canseco, Rod Carew, Steve Carlton, Will Clark, Roger Clemens, David Cone, Andre Dawson, Dennis Eckersley, Carlton Fisk, Andres Galarraga, Steve Garvey, Tom Glavine, Juan Gonzalez, Tony Gwynn, Rickey Henderson, Reggie Jackson, Randy Johnson, Dave Justice, Eric Karros, Ryan Klesko, Chuck Knoblauch, Barry Larkin, Kenny Lofton, Tino Martinez, Don Mattingly, Fred McGriff, Paul Molitor, Raul Mondesi, Joe Morgan, Dale Murphy, Eddie Murray, Mike Mussina, Rafael Palmeiro, Dean Palmer, Jim Palmer, Gaylord Perry, Kirby Puckett, Manny Ramirez, Ivan Rodriguez, Pete Rose, Tim Salmon, Ryne Sandberg, Deion Sanders, Reggie Sanders, Mike Schmidt, Tom Seaver, Gary Sheffield, Ozzie Smith, Willie Stargell, Jim Thome, Alan Trammell, Greg Vaughn, Mo Vaughn, Robin Ventura, Larry Walker, Lou Whitaker, Bernie Williams, Matt Williams, Dave Winfield, Carl Yastrzemki, Robin Yount and many more. If your player is not listed here, just e-mail us - we got 'em ALL!!! Prices for cards of these players from 1981 and up are as follows:
| | |
| --- | --- |
| 1 to 10 different - single player | 50 cents each |
| 25 different - single player | 40 cents each |
| 50 assorted - single player | 30 cents each |
| 100 assorted - single player | 25 cents each |

Please double the above prices for Barry Bonds, Ken Griffey Jr., Chipper Jones, Greg Maddux, Mark McGwire, Sammy Sosa, Mike Piazza, Cal Ripken, Nolan Ryan and Frank Thomas. Some rookie cards of the above players are available (prices vary). Send an e-mail with the name of the player(s) and we will notify you of availability and price.
SOLD OUT PLAYERS: Derek Jeter, Alex Rodriguez, & Vladimir Guerrero
Bargain Basement:
Bowman, Donruss, Fleer, Pinnacle, Score, Stadium Club, Topps, Ultra, Upper Deck and MORE!!! The following star player's cards are offered here for common prices - 100 assorted for $10 (10 cents each)!!
Jim Abbott, Moises Alou, Brady Anderson, Sparky Anderson, Steve Avery, Carlos Baerga, Harold Baines, Don Baylor, Andy Benes, Bert Blyleven, Bobby Bonilla, Gary Carter, Joe Carter, Jack Clark, Dave Concepcion, Darren Daulton, Eric Davis, Lenny Dykstra, Darrell Evans, Dwight Evans, Mark Fidrych, Cecil Fielder, Rollie Fingers, George Foster, Julio Franco, Travis Fryman, Ron Gant, Kirk Gibson, Rich "Goose" Gossage, Mike Greenwell, Ken Griffey Sr., Marquis Grissom, Keith Hernandez, Kent Hrbek, Bo Jackson, Gregg Jefferies, Ferguson Jenkins, Tommy John, Wally Joyner, Jim Kaat, John Kruk, Ray Lankford, Greg Luzinski, Fred Lynn, Edgar Martinez, Ben McDonald, Jack McDowell, Kevin Mitchell, Jack Morris, Craig Nettles, Phil Niekro, Dave Parker, Tony Perez, Tim Raines, Jeff Reardon, Jim Rice, Ruben Sierra, Lee Smith, John Smoltz, Don Sutton, Luis Tiant, Andy Van Slyke, and Earl Weaver.
Home

Baseball Stars: 1950-80s

Baseball Stars Blowout

N.Y. Yankees

N.Y. Mets
S.F. Giants

Oakland As

Brooklyn/L.A. Dodgers

Non-Sport Cards (1930s)

Mens Basketball
Womens Basketball

Common Baseball Cards: 50-90s

Memorabilia

Rookies